Works in Gress / Trabajos en greso
December 8, 2022 - January 26, 2023
Gobernador José Guadalupe Covarrubias 46, San Miguel Chapultepec
JO-HS and Olympia are proud to collaborate and present Works In Gress, a solo exhibition of tapestrie created over the course of the last two years by Cassandra Mayela. The exhibition highlights Mayela' ongoing Maps of Displacement - a participatory series of site-specific installations created through repurposing Venezuelan immigrants' clothes to create tapestries that evoke one of the largest modern-day refugee crises.

For the past 2 years, Mayela has been collecting clothing from Venezuelan immigrants that hav relocated in different parts of the U.S. and the world. She asks for something that represents them or has a connection with their migratory process. These works are dependent on the collection process itself and oftentimes getting people involved has proven to be hard as for some, reliving their experiences can be quite painful.

By working within a site-specific framework, the tapestries connect with the specificities of the locatio studied through material, scale, and pallet. Each piece opens a repository of personal and social experience of diaspora, blurring the lines between artifact and contemporary sculptural and textile practices.

Maps of Displacement, the central component of Mayela's textile practice, is recontextualized in the metropolis of Mexico City, with a refined understanding of what it means to complete a work of art, especiall as it pertains to a socio political reality that has no end in sight.


---

"Work in progress" (WIP) is an acronym often used by artists to indicate that the work being presented is unfinished.

In this context, Maps of Displacement is a "Work in Progress" as the subject of the series is an unresolved and unending migratory crisis. However, when considering the cultural implication of a social crisis, the word regression feels more appropriate than progress.

So, what is progress? And what is regress? What is gress?

"Pro" means forward and "re" means backwards. "Gress" derives from the Latin gressus: a step, pace, degree. It indicates almost exclusively, movement.

This leads me to recontextualize my own understanding of forward vs. backwards, and instead use the term Work in Gress (WIG). I want to note that my practice will always be in gress, focusing on the movement without it being related to any sort of system; just movement.
–Cassandra Mayela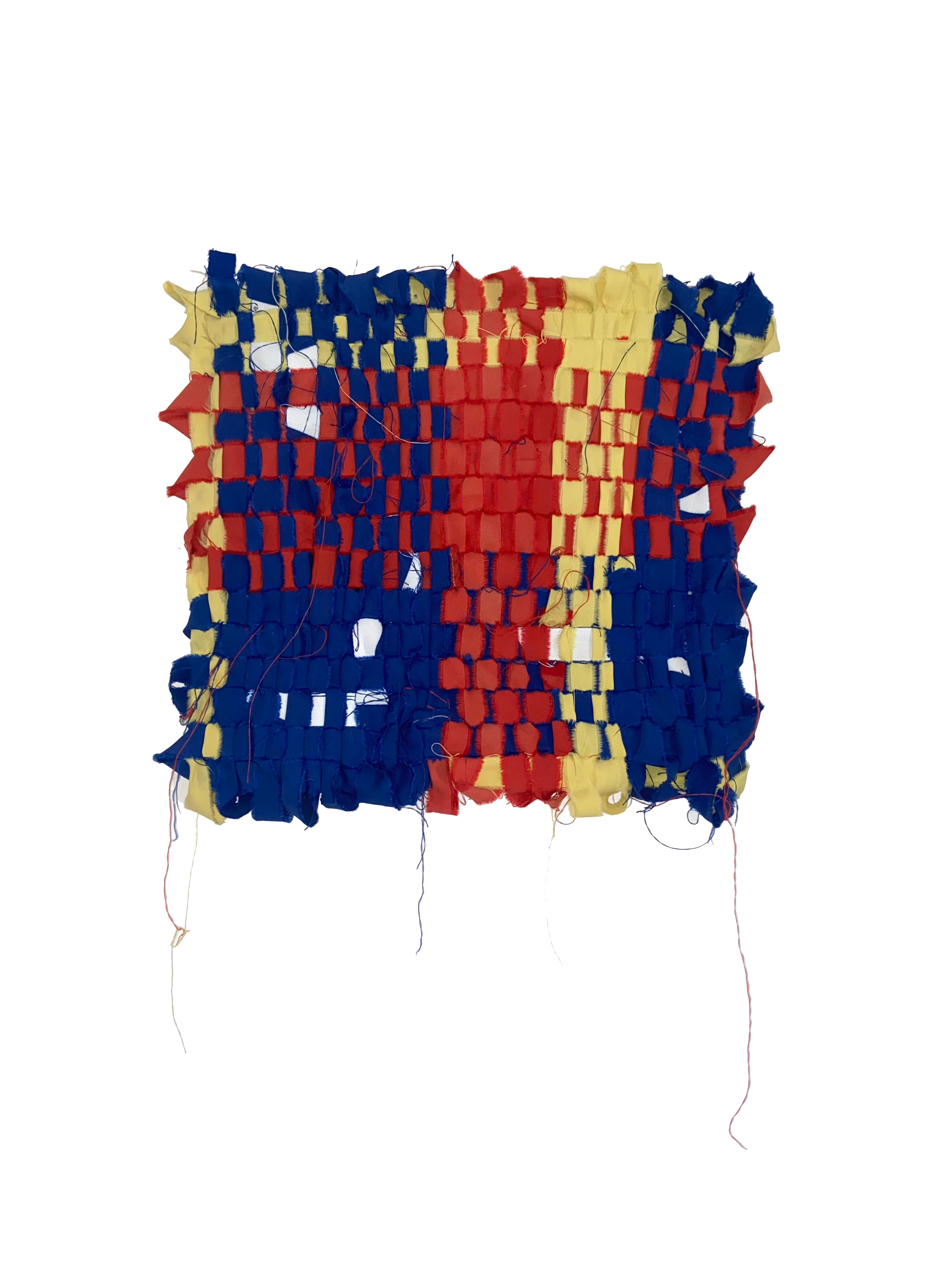 About the artist
Cassandra Mayela is a self-taught textile artist working and living in New York since her forced migration from Venezuela in 2014. Her personal experiences as an immigrant and a woman of colour have shaped her curiosity for clothing's story-telling capacity and how migration affects one's identity and feelings of belonging. In doing so, her work is largely community-orientated, exploring the idea that fundamental changes in fabric can affect one's perception of identity, highlighting new avenues of empowerment.