Sensaciones
November 11, 2023 - January 13, 2024
Gobernador José Guadalupe Covarrubias 46, San Miguel Chapultepec


JO-HS is delighted to present Sensaciones, a group show featuring work by thirteen artists opening November 11th in Mexico City. Featuring work by 13 artists based in 5 countries, Sensaciones celebrates the connections between artists that has sustained the global JO-HS community for the past two years.

Sesaciones includes work by Molly van Amerongen, Maya Fuhr, Floria González, Sofia Lucarelli, Nell Nicholas, Monica Rezman, Frankie Tobin, Therese Regalado, Melissa Ríos, Lotte Schäff, Mia Vallance, Andrea Villalón and Thea Yabut.

The exhibition will be open to visitors Tuesday - Saturday by appointment. Email info@jo-hs.com or sophie@jo-hs.com to schedule your viewing.



The artists featured in this show use their artistic practices to index, process, and respond to the sensations of everyday life. Metabolized thought and feeling drives their material interventions on the world, yielding work that offers new avenues for understanding and experiencing our pasts and presents, all in order to move more intentionally and honestly into the future. Common themes emerge across the works, establishing new connections between artists and their techniques.

Therese, Lottë and Thea excavate and respond to the vitality and will of their chosen materials. Therese describes the bamboo shoots she uses as "alive…every time they are bent and they respond…it's as if I am given permission to shape."

Nell and Andrea explore how subjects engage with, and are shaped by, the objects and settings that surround them. Depicting objects encountered in their daily lives, both artists paint flattened scenes that compress and push objects up against the picture plane. The effects of these works vary widely, however, as Nell's paintings abstract the familiar, and Andrea's invites the viewer to join in the intimate table scenes that mark daily life.

Some of the artists respond to shared feelings or experiences informed by embodied and gendered experiences. Using different media and drastically different styles, Melissa, Maya, and Floria explore problematics of vision, the body, gender and desire. Melissa's surreal paintings and Maya's sculptural latex paintings both feature veils that occlude underlying elements; cuts, tears, and folds reveal what lies beneath, offering intimate, and sometimes uncomfortable, access. Taking a more narrative approach, Floria creates dreamlike scenes revolving around female protagonists that play off of the paradoxical binaries of female archetypes. Life and ecstatic experience appears alongside mortal danger and death in Floria's rich worlds.


On the occasion of JO-HS's two-year anniversary, Sensaciones reaffirms the gallery's commitment to nurturing the practices of emerging artists and shaping a global community of artists, collectors and curators.
SELECTED WORKS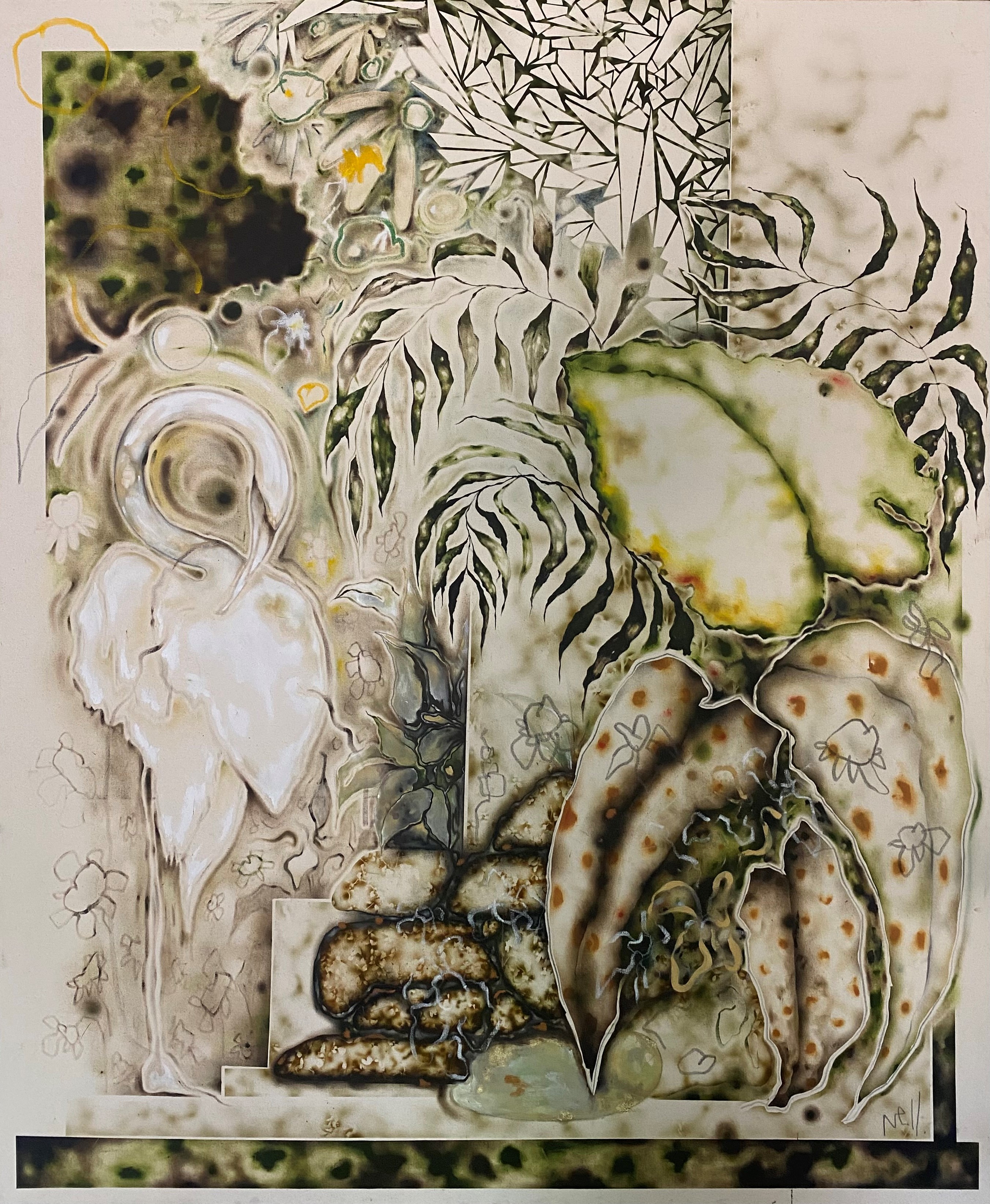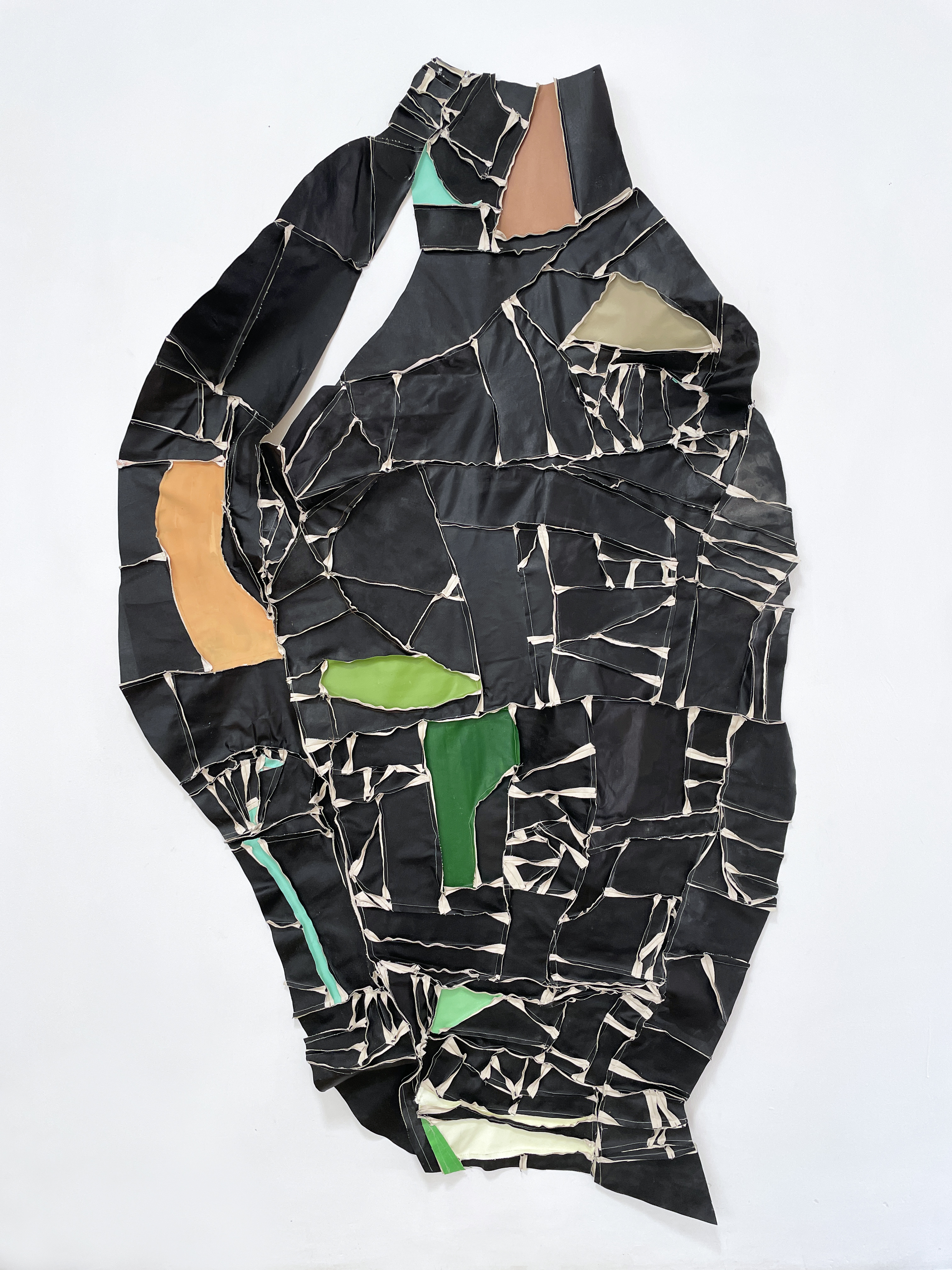 Artist Biographies

Molly van Amerongen is a London-based abstract artist working in oil and acrylic paint, pigment and collage. She loves the richness of pigments, which create "colors without names." Collage is also very important in her process; she incorporates elements from drawings into larger scale paintings. Her compositions aren't always conscious and she likes that there's an element of chance and 'the accidental' in her work. Each viewer can have their own interpretation and experience - pushing them to unexpected places.

Having spent long stints working and living in both India and Mexico, her interests lie predominantly with color and the stories it can tell. The artist explains: "Color can bring you back to a particular place, and it can create new continents, full of detail, allowing memory and imagination to interact." She is interested equally in the domestic and the exotic: in objects and in the spaces between them. She completed her BA in Fine Art at Newcastle University in 2015 and now works between her studio as a painter and as a freelance specialist-painter and set designer

Residency at JO-HS: October 2023


Maya Fuhr grew up in Victoria, British Columbia with a sense of separation from the outside world. A young girl with nowhere to escape to, she explored the world via magazines and her imagination. This might be most felt in her irreverent approach to fashion, where precious conventions give way to satire and subculture. Throughout her career, Maya has lived and worked between New York, Los Angeles, Montreal and Toronto, giving her a diverse arsenal of taste and cultural influences. Being part of a close-knit community of artists that share many of Maya's sensibilities has also deeply shaped her approach. There is a fluidity with which she merges other visual languages with her own, from dynamic and unconventional collaborations through to personal diptychs of art and photography that enhance and speak to each other. Roving from fashion to portraiture, object to subject, Maya Fuhr's pieces are a call and response, reminding us that a world beyond this one is just a click away.

Residency at JO-HS: September 2023


Floria Gonzalez was born in Monterrey on July 20th, 1980. She moved to Acuña Coahuila in 1983, before moving to Mexico City at 16 where she currently lives and works. Her work captures alternate realities of the psyche by creating fictional universes of characters and their settings. Using photography, video, installation, performance and painting, Floria maintains a constant dialogue between fantasy and imagination, constructing visions that explore her own identity by referencing phantasmic memories and experiences.

She is the creator and director of Floto Studio where she has directed music videos and documentaries for artists such as Leonel García, Natalia Lafurcade, Torreblanca, Kaay, Sofi Mayen, Jazmín Solar, Sabino, Alondra de la Parra and Chula de Clown. She has also collaborated with artists such as Matisse, Francisca Valenzuela, Aleks Syntek, Reik, Kevin Johansen, and Jorge Drexler. She has made concert visuals for Leonel Garcia, Natalia Lafourcade, Carla Morrison and Paty Cantú. She has participated in exhibitions in places including Mexico City, Monterrey, New York, Austin, Los Angeles, Miami, Bolivia, Chile, Argentina, Colombia, Berlin, Italy, Hong Kong, London, and Singapore.


Sofia Lucarelli is a British artist currently based in Mexico City who works in a range of media spanning from oil painting to digital art and graphic design. She is influenced by memories of passing moments and scenes, drawing inspiration from natural and man made patterns which make their way into her figurative work. She is influenced by memories of passing moments and scenes and draws inspiration from natural and man made patterns which make their way into her artwork. Her current works collage fragments of textures and observations, primarily from the city.


Nell Nicholas is from Wiltshire. A visual artist and musician, Nell's practice revolves around drawing, collage and paintings which she uses to investigate the relationship between people and their surroundings. Usually painting with oils on a large scale, she creates scenes rich with details and layers. Every object on the canvas seems to have its own story – artworks, furniture, ancient vases, tapestry – everything tells the story of someone who isn't represented in the paintings.

Nell graduated with a BA (Hons) Fine Art from City & Guilds of London Art School in 2018. She also studied at Falmouth University and University College London.

Residency at JO-HS: June 2023


Therese Regalado (b. 1987) researches and relates materials, craft and puzzle-solving in making objects. Her work intervenes with processes of how materials are made and fidgeting with notions of restrictions and assembly. Regalado has exhibited her work in both solo and group shows. Membranas created during her residency at JO-HS channel movement. The fibers of their being organize around a mass of light that she swathes in silken tissue or stainless steel. That they hold at right angles exhibits their delicate and impermeable virtues which together are able to parcel up a glowing source and quietly brighten the surroundings. A membrane is a boundary too and like a filtrate, sieves the entry and exit of stuff, the historical, ethical, and ecological conditions of which Regalado, a trained furniture maker, traffics materially. When shaping surface, for instance, she regards silk in terms of its patient and translucent harvest, or of its filament for the making of bulletproof vests, the violent vein of this latter striking into the metals in which she frames her work or by which she, herself a wearer of glaring charms, deposits slight defenses onto their skin. On every sharp edge of her armor, Regalado draws a line. There, she has thought about what she falls heir to and what she can still be, the threads of her affliction and affection spun into secrets and made to set sheerly and sinuously into a frosted frontier. Regalado's entity then is not so much the thing drawn to a close nor the parts held inertly inside or outside an organism; rather it is the cusp on which a body loses and assumes shape, the lining on which she entraps and sets free some sort of life. (Kiko del Rosario)

Residency at JO-HS: February 2023



Monica Rezman is a multimedia artist who explores intimacy within abstraction through the use of traditional media and everyday found materials. She studied painting and textile design at the School of the Art Institute of Chicago. While at SAIC, she spent a study-abroad year at the Instituto Allende in Mexico. In 1993, she studied classical drawing and painting at the Florence Academy of Art in Florence, Italy. In 1999 and 2002 consecutively, Rezman was awarded an Art-in-Residence in Gujurat, India, a global center for textile work. For the last forty years, she has exhibited nationally and internationally, including at exhibitions at the Riverside Art Center, 2019, Governors State University Gallery, 2019, Merida English Library, Mexico 2015, The Chicago Cultural Center, 2017; The Contemporary Art Gallery, India 1999, and the South Bend Regional Museum of Art 1998. In 2017-18 she was the Artist-in-Residence at the Chicago Artist Coalition's Field/Program. She is a 2020 recipient of an Individual Illinois Arts Council Grant. Her work has been reviewed by Hyperallergic, Alan Artner (Chicago Tribune). and New City. Her work was recently featured in a solo exhibition at 65 Grand, and group shows at Kavi Gupta Gallery and Patricia Sweetow Gallery in Los Angeles.
Residency at JO-HS: May 2023


Melissa Rios is an artist based in Mexico City working primarily in painting and drawing. Mining the fertile ground between figuration and abstraction, Ríos draws on feminist, literary, and surrealist understandings of reality and its representation. Ríos paints surreal, dream-like visions. Figures, objects, and abstracts overlap and aggregate like veils mediating between realms of experience. Full of emotional charge and presence, the paintings imagine the spaces between the physical and metaphysical, between imagination and experience.

With training in architecture and advertising, Ríos is a multidisciplinary artist and thinker. She is often involved in multiple projects at a time, taking on roles in art direction, interior design, product design, furniture and photography. She has exhibited her paintings in solo exhibitions at Galeria Cuarto 37 in 2021, Costa Rica and collective exhibitions in Valoarte 2020, Costa Rica and Queremos Pintar at the Regional Museum of San Ramón, Costa Rica. A former JO-HS fellow, Ríos's work has been featured in group exhibitions with the gallery, the gallery's contribution to Zona Maco 2023, and in her debut solo exhibition at JO-HS NY in September, 2023

Residency at JO-HS: September 2022


Lotte Schäff is a Munich-born sculptor and painter based in Marseille, France. She holds a BA in Fine Art from Central Saint Martins, University of the Arts in London, graduating in 2021. Through the use of both contemporary and ancient materials such as clay, polymer clay, fabric, leather, glass and plastic beads, her work considers the fleshy nature of contemporary existence. Her tactile practice draws from tales and mythologies, as well as from science-fiction and fantasy novels, especially ones by Ursula K. Le Guin. The agency of objects and recognising their vital materiality (Jane Bennett) is an ongoing concern in her practice. Her recent work exists in between painting and sculpture. It combines recognisable forms with unfamiliar imagery, creating both a sense of familiarity as well as otherness.

Residency at JO-HS: August 2023


Frankie Tobin uses a variety of mediums within her practice to excavate collective archetypes of the human unconscious. The varied nature her work manifests as results in the effect of world building across disciplines. She is currently pursuing a masters in painting at the Royal College of Art in London; traditionally having roots along the west coast of the United States. She favors the exploration of color and abstracted figuration to both provoke narrative and translate emotional realities. The works she produces are derived from a sense based lens niche to her own experience within the female collective conscious. Her aim is to connect inner structures to external felt realities. "I paint to alchemize pains I collect from encountering the external world. To inquire space for tenderness while holding meaning in living with original human fear".

Residency at JO-HS: March 2023


Mia Vallance is an artist based in London. In a deluge of malvoyant pigments and brushstrokes, Mia Vallances' abstract paintings manage to give us something to hold on to. Favouring monochromatic washes, her pictures are rich with the pigments she has chosen, subtly shifting from one colour to the next, as our eyes make out the confused and yet uncomplicated arrangements she is describing to us. Her recent work involves painting in thin and watery layers of paint that seep and bleed into the canvas. The paint is guided roughly by Vallance yet is able to travel a little as if having a voice of its own, responding in the conversation between her and us. -Text by Esme Blair

Residency at JO-HS: April 2023


Andrea Villalón is a multi-disciplinary visual artist known for her introspective and autobiographical themes in painting, photography, and stained glass. Born in 1995 in Uruapan, Michoacán, her work delves into personal identity and introspection through the use of symbolic elements and the documentation of everyday experiences. From ordinary routines like meals to haircuts, self-inflicted cigarette burns and her beloved cats, pills, books, and relationships to personal belongings and people, Andrea explores the complexities of modern womanhood. Her art encompasses emotions and concerns such as temporal progression, dreams, the modern world, memory, femininity, solitude, the chthonic, and aging, all stemming from an existential worldview emphasizing the importance of an authentic connection to the world.

Andrea has exhibited her work at art fairs including Nada NYC, Enter Art Fair, and Material. After having two solo shows in Mexico City and being previously represented by Machete Gallery, Andrea Villalón is now under the representation of Brigade in Europe, where she had her debut solo show in Copenhagen in 2020. Currently based in London, Andrea advocates for self-exploration and self- understanding as a path to simplicity in life.


Thea Yabut is a sculptor based in Montréal, Canada. The inscribed surfaces of Thea Yabut's work brings identity to an intimate process of materiality, pattern, and improvisation. Her low-relief sculptures embody the physical act of their construction while the repeating textures demonstrate a meditative and durational activity. Thea holds a sustained interest in highlighting the mutability of her material and its potential to encapsulate time. Embedded in the surface of her works are notations of how it transformed from a wet malleable paper clay into a fossilized record of touch.

Yabut completed an MFA from Western University and a BFA from Alberta University of the Arts. Recent exhibition venues include Leila Greiche, New York; Musée d'art contemporain de Montréal, Montréal; ADA, Rome; Cooper Cole, Toronto; Cassandra Cassandra, Toronto; Tiger Strikes Asteroid, Brooklyn. From 2019-2021 she was Artist-In-Residence for Drawing at Concordia University. She is currently based in Montréal, Canada.

Residency at JO-HS: September 2023